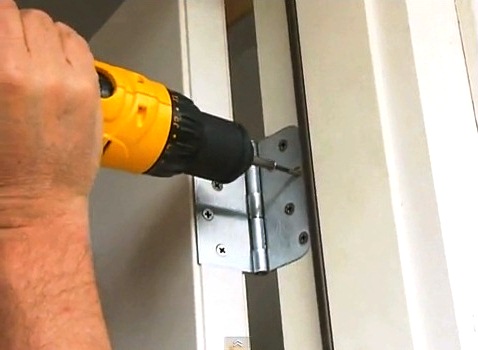 Door Repair Services
Protect your home and family from burglars with timely and efficient door repair in Dubai
Fixing of sticking, warped, or heavily battered doors by trained specialists near you
Emergency burglary repairs – from repairing locks to replacing damaged doors
All work is carried out in compliance with all health & safety regulations in the UAE
Supplying of replacement parts, such as knobs, hinges, or door closing mechanisms
Professional repairs of wooden doors in line with your preferences and budget
Your local handymen will fix your door in a few short steps
1 Book your door repair service online and describe your problem in detail.
2 The handyman will arrive at your property to carefully evaluate the damages
3 The skilled door repairman will use suitable tools to make repairs to your door.
4 If the door has been damaged by burglars, the expert can install a suitable replacement.
Fast and reliable door repairs and replacements in Dubai
Your door might be damaged due to uncontrolled slamming or maybe it is warped, split, or has completely fallen because of an attempted burglary. If it's not locking or latching anymore, then Fantastic Handyman can help you with:
Anything from replacing worn hinges to upgrading the locks for insurance purposes, you can fully count on the pros;
All required equipment and tools are provided;
Materials if needed, can be purchased and delivered;
Timely and cost-efficient door repair;
We charge per 30 min past the 1st hour. This will ensure that your bill is based on the exact time the pros spend on site.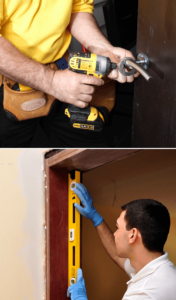 Have your door adjusted, repaired, or replaced by an efficient handyman
Kick door repairs... out the door
Here you can take a look at some of the door related problems that the handymen can help you with:
Squeakiness
Stiffness
Springing
Misaligned lock
Door fitting and hanging
Adjustment
Refurbishment
Repairing or changing closers, hinges, and glass
Repairman's tools, equipment, and components are supplied
The handyman repairmen are fully equipped and can even supply you with additional parts and door components such as knobs, hinges, hangers. However, keep in mind that costs for additional parts, if additionally supplied are also included in the final door repairs bill.
Door repairs handled by experienced and efficient pros
Even if burglars completely busted your door, the skilled handymen might be able to help you out with a few repairs here and there. And of course, they can completely replace it if there's no hope. They've got all the skills and experience for a quick service with minimum disturbance.
Available 7 days a week
No need to wait until you have a free day. Just pick up the phone as Handyman can help you any day of the week.